Consider An AC Maintenance Program for Peak Efficiency and Long Life
One of the most important steps you can take to protect the investment you have in your air conditioning and heating system is to arrange for preventative maintenance. The experts at Able Air want you to know that preventive maintenance on a regular basis will insure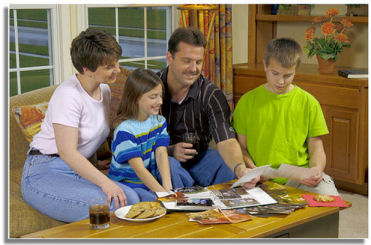 Breathing clean, healthy air in your home can make your whole family more comfortable and happier.
that your system stays operating at peak efficiency. It will also serve to fulfill the requirements of the manufacturer for your warranty obligation.

The minimal cost involved in preventive maintenance can easily give you a profitable savings on energy costs and help to avoid potential repairs. In a University of Florida experiment the Solar Energy and Energy Conservation Laboratory, tested performance of an air conditioning system operating with different levels of refrigerant charge — a condition that could occur naturally in an un-maintained unit as refrigerant may leak and evaporate over time. At an 85 percent charge, the system provided 15 percent less cooling capability. At a 50 percent charge, cooling from the unit was not measurable. This points out that something as simple as the level of refrigerant can affect the overall operation of your system.

With a complete, thorough system maintenance plan from Able Air, refrigerant charge is verified along with other critical equipment operations. Electrical connections are checked, tightened and redone if necessary. Current draw is checked on all components as well as voltage across controls to be sure that it is within manufacturer's specifications. Coils are cleaned and/or sanitized which allows proper airflow and heat transfer. Blower assemblies are checked for dirt buildup since a very small amount of dirt on a blower wheel will reduce airflow and put additional stress and wear on the compressor — with possible catastrophic results.

On a typical hot humid day in Brevard, an air conditioning unit can remove up to 18 to 20 gallons of water from an air-conditioned space. The coil surface, drain pans and drain lines that remove the condensation need cleaning and time-release treatment to prevent algae, debris buildup and leaks into the home. All filters need to be cleaned or replaced while proper fit is assured. All system components are checked for proper operation and wear. Information from visual inspections and various test data collected during the maintenance procedure aids the technician in anticipating potential component failure. Recommendations can then be made for repairs or component replacement.

A properly trained, experienced technician from Able Air has the ability to keep your system operating year-round, without interruption. Often, with proper maintenance, an expert from Able Air can actually improve the efficiency of your system, saving you money above and beyond the cost of a proper maintenance program.

Contact us and ask to speak to someone about a proper maintenance program for your air conditioning system. Call 321-242-7400. Remember, Able Air is able to be there when you need us. Serving all of Brevard.